Donate Now
Actionable Audio Ads
02. Why is it important?
Establishes a new channel for charitable donations, proves engagement can be driven and measured from Audio Ads.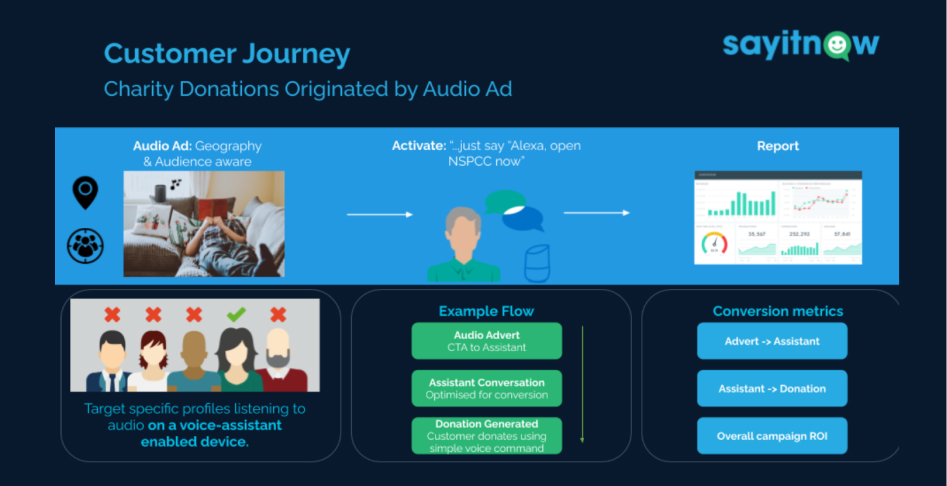 Voice Enabled Donations
Actionable audio adverts than enable donations using simple voice commands.
Alexa, Open NSPCC
Voice Donations –
How and Why Now?
Covid-19 has had a severe impact on different sectors across the country, and amongst the worst hit were the nation's charities – who rely on donations to support those most in need. According to research conducted by the Charity Commission, more than 90% of charities have been negatively affected by Covid-19, and 62% of charities say that they ''anticipate a threat to their charity's financial viability during the next year".
Aware of the acute impact of the pandemic on charities, Say It Now and Octave believed they could help mitigate this by raising awareness and driving donations – all by using Actionable Audio Advertising to target listeners and engage with them via simple, interactive means that only required the listener to use short voice commands.
By making audio adverts actionable and interactive, we enabled our charity partners to start a truly engaging, conversational experience with their key audiences (e.g. donors) and deliver a much stronger call to action. Working with our programmatic partners, we created audio campaigns that listeners could directly interact with – by requesting more information about the charity or by donating all through simple voice commands on their smart speakers.