Charity Donations
Products
Donate Now
Enable Charitable Donations Using Voice Assistants And Audio Ads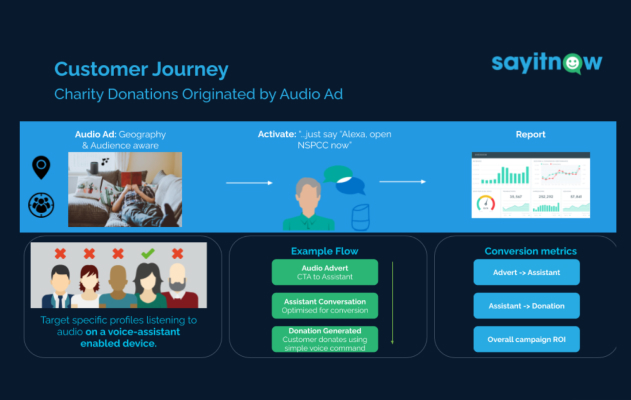 Voice Enabled Donations
Actionable audio adverts then enable donations using simple voice commands.
Voice Donations –
How and Why Now?
Donate Now creates an additional donation channel for not-for-profit organisations. Targeted audio ads run specifically on devices that support a voice-assistant; listeners can find out more about the charity or donate straight away with a simple verbal instruction. Transactions are frictionless while the connected nature of the devices enables the direct effect of ad spend on user engagement to be measured.
Evolving consumer habits see people embrace voice commerce to complement mobile and ecommerce. 34% of UK households have a smart speaker and 72% of people with smart speakers use them as part of daily routines. The use of smart speakers has increased 12% each month during Covid-19, listening to audio remains the most popular activity on smart speakers while voice transactions are projected to be worth $80 billion in 2024.