Berocca
Shoppable Radio Advertising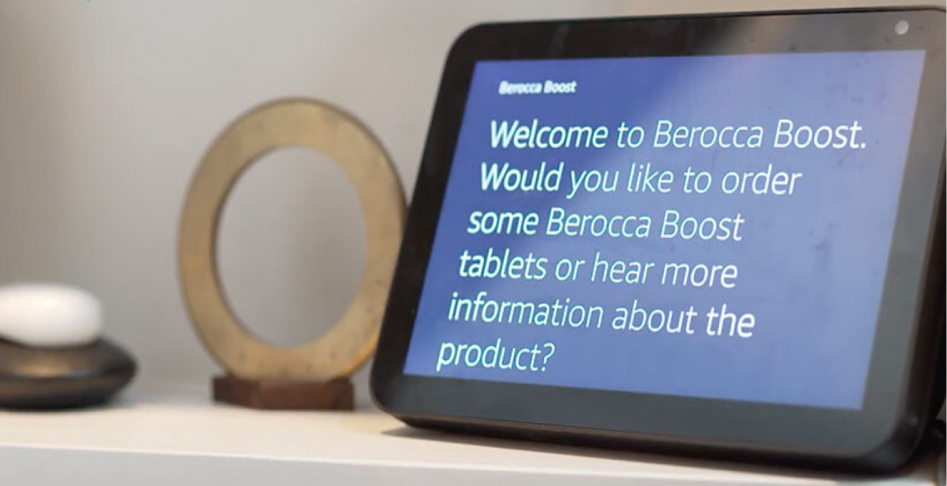 Shoppable Radio Advertising
Reducing friction in the shopping process for sellers of physical goods enables brands to have more control over the user experience before and after purchase. This approach allows detailed attribution of sales to a specific ASIN through the voice channel including a deep understanding of the last mile conversational path, allowing optimisation of the 'golden path' to increase conversion.
Alexa, Open Berocca Boost
01.
What?
Berocca Boost has claimed a global media first with a actionable audio radio campaign driving to product sales.
02.
Why is it important?
Proves FMCG brands can take advantage of voice commerce and derive detailed metrics from audio advertising.
The Evolution of Voice Commerce
Bayer Consumer Health's Berocca revealed Friday that it is running a new ad format for Amazon Alexa designed to drive sales conversions for its Berocca Boost vitamin tablets. The solution involves audio ads dynamically inserted during radio listening through Amazon Alexa devices. The ads conclude with a call to action to activate an Alexa skill. When consumers invoke the Alexa skill it offers information about the product and enables them to make a purchase by voice using their existing Amazon shopping account details.
The program was developed by a group of ad agencies and technology providers including A Million Ads, MediaCom, MullenLowe, and Say It Now. Ads are being delivered via Global radio station feeds being listened to through Alexa-enabled devices. As result, the ads are only heard by radio listeners that are known to be using an Alexa device at the time. This is where A Million Ads insertion technology is employed. The campaign is scheduled to run for four weeks in the UK starting February 12th.