Conversation Design
The power of conversation design makes it possible to engage with ads using your voice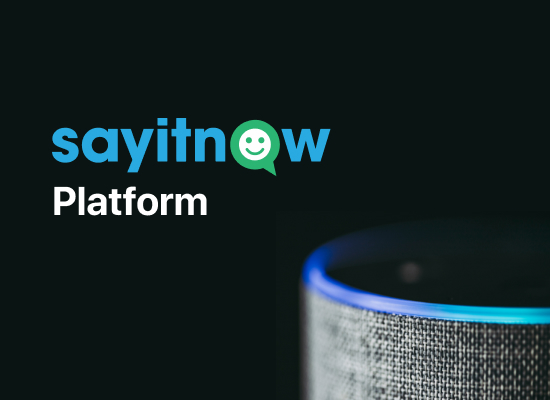 Say It Now's Platform
Our platform allows us to seamlessly create the optimal skill for each campaign. This ensures that the user experience is straightforward and that the goal of the brand we are working with is clear, as we emphasise our company best practices.
Integrating this with our expertise in conversation design means that working with us will mean you are creating the optimal campaign for your bespoke voice experience. The art of conversation design and the techniques which we use go hand in hand with our data dashboard to improve and optimise your Actionable Ad.
Want to find out more about our live data dashboard?
Talk To Us
Post Campaign Reporting
Creating an Actionable Audio Ad campaign means that you will be able to access our data dashboard which has a live report of the performance of your campaign. Our dashboard offers insights into new, valuable data that we will help you interpret and digest.
Once your campaign with us has wrapped up, we will spend time analysing the data and present this back to you, along with recommendations for your next campaign.
Optimisation of your campaign is key to utilise all the data gathered from our dashboard and boosting the performance of your next Actionable Audio Ad campaign.
Following this post-campaign analysis, campaigns can be set to 'always on'. This means that your Actionable Audio Ad is live throughout the year and this means that key content of the skill can be amended and the digital radio ad can be amended to suit your business needs, but the invocation "Alexa, open xx" is live throughout the year. Returning users will always have new content to engage with, as well as encourage new users to interact with the Actionable Ad.