Tuning in 2023
Introduction
Radiocentre's annual flagship conference, Tuning In, was held on September 26th, 2023, and it was a star-studded event. Hosted by Tyler West, the conference featured sessions from industry experts and radio presenters, including Frank Skinner, Dave Berry, Myleene Klass, and Anna Whitehouse. Sessions typically cover a wide range of topics, such as the latest trends in radio and audio, the future of advertising, and the impact of technology on the media landscape. This year's conference also featured a live interview with Simon Myciunka, the new CEO of Bauer Media.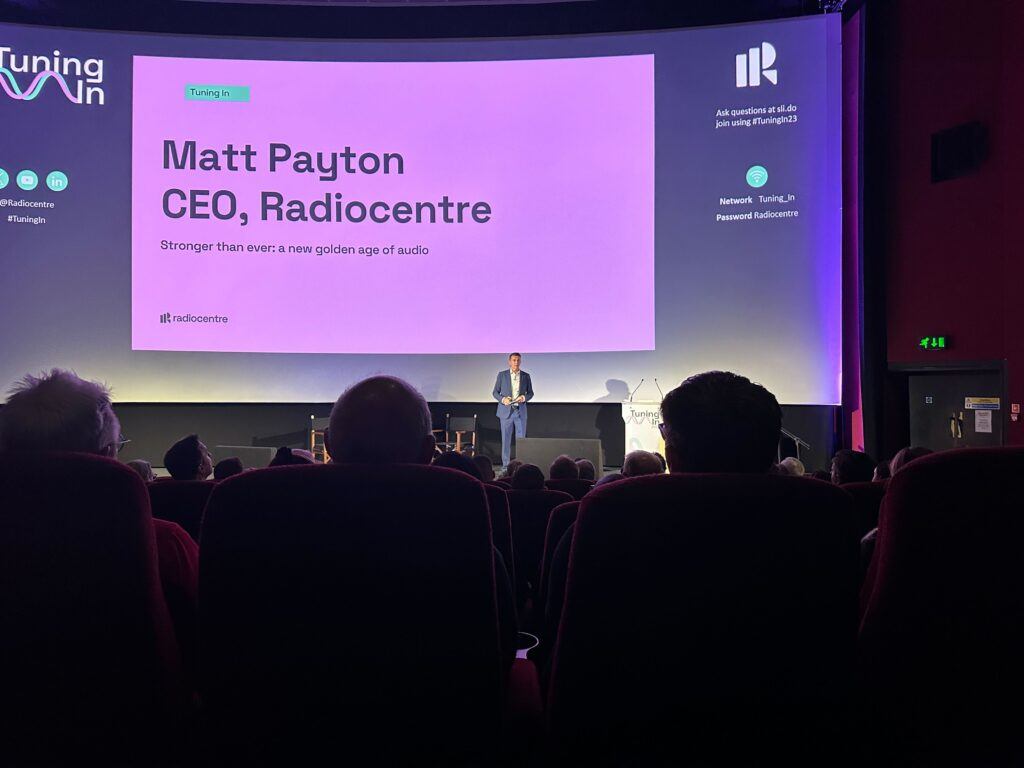 Key Takeaways
There was lots of insightful information that was shared throughout the event but here are the key takeaways we took from it:
The Industry is Growing and so is the Use of Smart Speakers
Matt Payton the CEO of Radiocentre shared some staggering statistics on commercial radio. Payton shared that the value of the industry has shot up by nearly £50 million from 2019 (£693 million) to 2022 (£740 million). Payton also shared that 25% of those listening to commercial radio are doing so on connected devices, and the majority of those are listening on smart speakers. Data reinforces how large the opportunity is for brands to utilise their ad spend more efficiently by developing targeted ads for smart speakers. A strategy supported further by data shared by Mark Hatwell and Faye McDowell of Global, including that smart speakers are now in 60% of UK homes and amount to 13.8 million weekly digital audio reach. As well as 17% of hours spent listening to audio on smart speakers were spent listening to the radio. Smart speaker usage continues to grow steadily!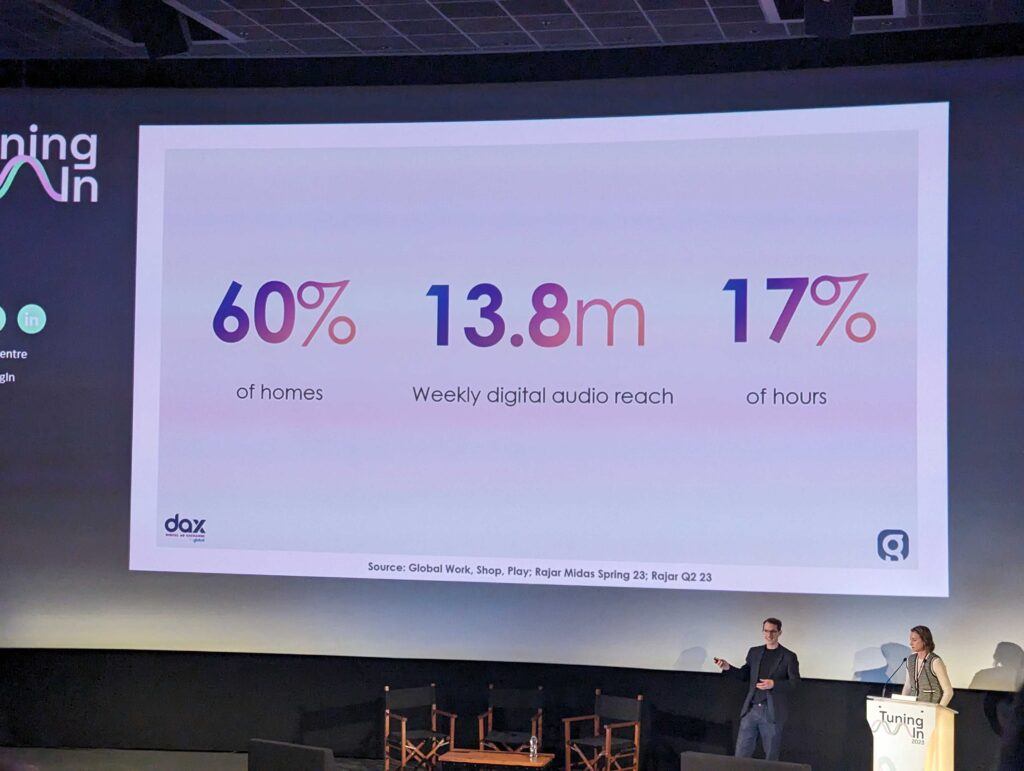 AI is Helping the Successfulness of Campaigns
Hatwell and McDowell also announced that Global has been working on their own AI model that allows for better measurement of smart speaker listeners. Their AI takes DAX measurements from other connected devices, such as smartphones, and uses that to find listeners with similar behavior on smart speakers, enabling them to offer insights to brands to support their audio media strategies.  They called this making the "untargetable, targetable". The two went on to reveal that this increases a brand's targetable reach by 10% resulting in greater ROI on ad spend.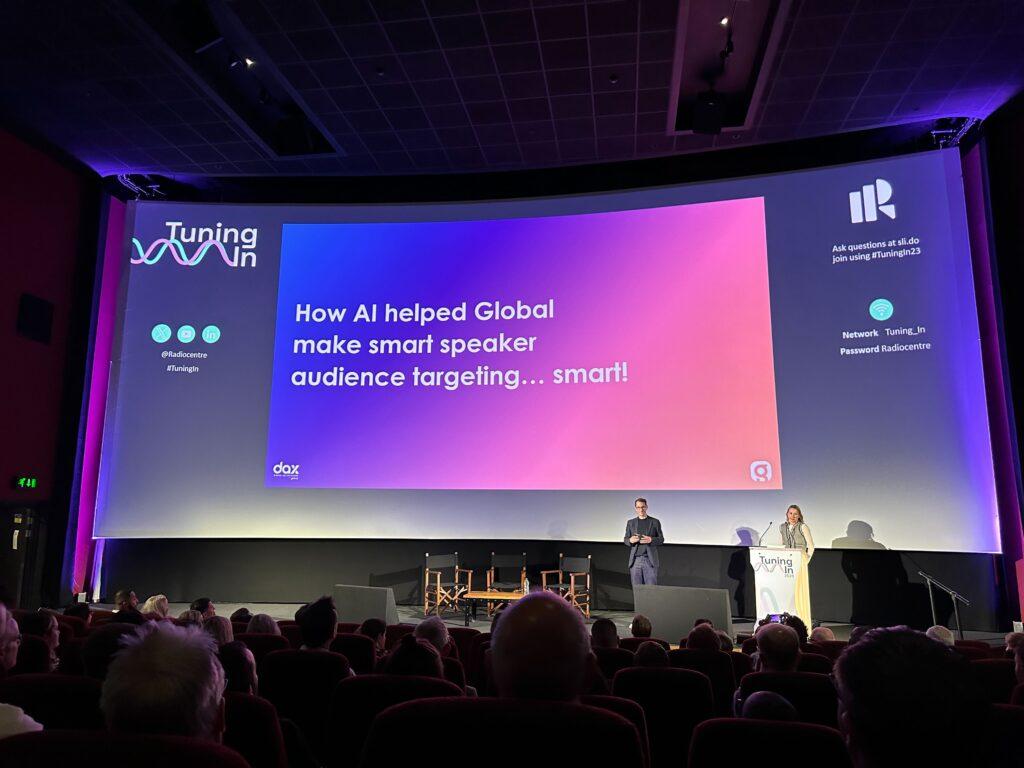 Each Half of the Brain has its Purpose so Target Them Separately
Finally, in a presentation entitled 'Listen Up!', System1 and Radiocentre took the opportunity to walk through the findings of a new report that showcases how to improve the effectiveness of audio ads.  Presented by Andrew Tindall and Donna Burns, they shared how each side of the brain is better at taking in vastly different types of information. The left side, for example, is far better at focusing attention, absorbing product-centric messages, and processing clear causes of action. The right side, however, is much more alert, and human-centric and has a greater capacity for memory. The Neuro-Insight study we released last year discusses the impact of Actionable Audio Ads on brain activity.
The 'Listen Up!' report concluded that ads should incorporate more right-brain features to make them more interesting, enjoyable, and memorable. The most effective audio ads know who their target audience is and depending on the desired outcome, which side of the brain they are talking to. They carry the branding message through the narrative, landing it early and repeating it often. This reinforces the importance of developing ad creative that is contextually relevant.
Utilising music can extend the ads' effectiveness beyond just the campaign lifecycle as it taps into the memory function of the brain.  Ensuring the ads are consistent with the brand messaging across other platforms, i.e. CTV, also increases the impact of the audio ad.
In Summary
This year's Tuning In conference reinforces what we have been focusing on for the last few years:
–   Audio ads are an effective and efficient way of reaching a brand's target audience
– Audio ads are shifting from traditional radio platforms to connected devices
– Audio ads are effective in performance campaigns, especially from connected devices
This quote by Bauer Media's CEO Simon Myciunka sums up the audio industry perfectly and shows the importance of collaboration:
"There is very little we can be successful with on our own."